Asian Pacific American Heritage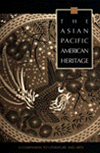 The Asian Pacific American Heritage: a Companion to Literature and Arts
Editor in Chief and Principal Contributor, George Leonard.
WINNER! THE AMERICAN LIBRARY ASSOCIATION CHOICE AS "ONE OF THE OUTSTANDING ACADEMIC BOOKS OF THE YEAR!"
THE CHAIR OF HARVARD ENGLISH and THE NEW YORK STATE HIGHSCHOOL PRINCIPAL OF THE YEAR agree their libraries need this essential book.
The reviews are in:
AMERICAN LIBRARY ASSOCIATION JOURNAL, "CHOICE" writes,

IT'S OFFICIAL: THE VACUUM AT THE HEART OF ASIAN AMERICAN STUDIES HAS FINALLY BEEN ELIMINATED WITH A CREDIBLE SOURCEBOOK....ESSENTIAL READING... (RECOMMENDED FOR) ALL COLLECTIONS. This volume (is) essential reading in Asian Pacific "new world" cultural studies. Leonard does not pretend to cover everything. Given the multicultural ethos only a comprehensive overview is possible, and Leonard's team provides that with more than 60 original articles grouped in general thematic areas. Contributors address family and the self, old country roots and traditions, literature, fine arts, sundry aspects of East Asian languages, and the diaspora. Shaping a background for the "American" Asian Pacific heritage are readable eclectic briefs on quotidian fare-- names in different Asian cultures, regional foods, religion, philosophy, festivals. Highbrows need not sniff: an enlightened East/West theorist, Leonard complements this with histories of Asian immigrants-- Chinese, Japanese, Korean, Filipino, Thai, and Viet. What emerges is the relativism of recent "Asian American" writing, fine art, and cinema. There are weaknesses, of course, but mostly cracking scholarship. All collections. (T. Carolan.)
LAWRENCE BUELL, CHAIRMAN, HARVARD UNIVERSITY DEPARTMENT OF ENGLISH AND AMERICAN LITERATURE and the JOHN P. MARQUAND PROFESSOR OF ENGLISH writes:

'This WIDE-RANGING collection of essays provides a VALUABLE INTRODUCTION to east and south Asian cultures, especially to the literary and other artistic achievements of their disaporas in the United States-- and it ALSO CONTAINS MUCH TO INTEREST AND ENLIGHTEN THOSE ALREADY KNOWLEDGEABLE in one or another of their branches.'
ROBIN CALITRI, NEW YORK STATE HIGH SCHOOL PRINCIPAL OF THE YEAR says,

A REMARKABLE WORK. It was an IMMEDIATE PURCHASE FOR OUR SCHOOL LIBRARY. This work gives access to an under-represented, crucial part of our nation which has made rich and significant contributions.
MARJORIE PERLOFF, the SADIE DERNHAM PATEK PROFESSOR OF HUMANITIES, STANFORD UNIVERSITY writes:

EXCELLENT AND VARIED ESSAYS... AT ONCE LEARNED AND YET ACCESSIBLE... AN INDISPENSABLE BOOK FOR TRAVELLERS AS WELL AS PROFESSORS, BUSINESS EXECUTIVES AS WELL AS STUDENTS. THE APPENDICES ALONE ARE WORTH THE PRICE OF THE BOOK. I PLAN TO TAKE IT ALONG ONMY NEXT TRIP TO JAPAN! The Asian Pacific American Heritage, modestly subtitled "A Companion to Literature and Arts," is in fact AN ENCYCLOPEDIC SOURCE BOOK to the various cultures, customs, languages, literatures, and arts of Asian America. It contains excellent and varied essays on Asian languages and their transliteration,on Confucius, family customs, concubinage, and food, on novelists, dramatists, andpoets, and especially on the history of the various Asian-American immigrations and the subsequent contributions of these new ethnic groups to contemporary life in the U.S.
LIBRARY JOURNAL says,

ADDRESSES THE NEED for source material... by WELL-CREDENTIALED SCHOLARS AND ARTISTSwho often share the ethnic heritage they discuss....Given the TREMENDOUS RANGE OFTOPICS COVERED, [the book] is HIGHLY READABLE AND INFORMATIVE.
DAVID CARRIER, BOOK REVIEW EDITOR, COLLEGE ART ASSOCIATION ON LINE REVIEWS, PROFESSOR OF PHILOSOPHY, CARNEGIE MELLON UNIVERSITY says,

A MARVELOUS compendium of learning and lore about languages, literature, and the arts, SCHOLARLY AND EMINENTLY APPROACHABLE, IS GREAT FUN TO READ. I LOVED IT. Enjoy!