Beyond Control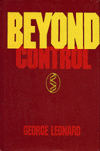 BEYOND CONTROL (novel, published by Macmillan)
MOTION PICTURE RIGHTS AND SCREENPLAY SOLD TO KEN SCHUR PRODUCTIONS.
United Press International:
"The first few pages of this beautifully conceived shocker are enough to capture and enthrall the reader!"
Los Angeles Times:
"A skilled writer in complete narrative command."
Booklist:(starred review)
"A fascinating tale... beautifully conceived."Too appropriate to today's issues to read as science fiction; this is a true horror story for our times."
Kirkus Reviews:
"Vital... marbled with visceral energy."
Dr. Frank G. Slaughter:
"A real shocker. I haven't read anything with quite the immediacy and in fact, the ominous portent of what could easily happen in many years."
Translated into Spanish and Chinese.