Into the Light of Things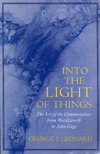 INTO THE LIGHT OF THINGS:
THE ART OF THE COMMONPLACE FROM WORDSWORTH TO JOHN CAGE (an original theory of the avant garde, published by the University of Chicago Press)
SELECTED BY THE AMERICAN LIBRARY ASSOCIATION AS "ONE OF THE OUTSTANDING ACADEMIC BOOKS OF THE YEAR."
Journal of Aesthetics and Art Criticism:
"REMARKABLE, EXPANSIVE... POWERFULLY REORIENTS US... in a style that happily accommodates scholarly accuracy and precision, highly readable prose that maintains a familiar tone, and an adventurous attitude that at times approximates (in the best of senses) detective work..... BOLD, INTERDISCIPLINARY... an impressively large number of topics brought together coherently and illuminatingly...."
Kenneth Baker, San Francisco Chronicle Book Review
"Leonard's book is a A FINE EXAMPLE OF INTERDISCIPLINARY STUDIES. He shifts focus persuasively from art theory to literature to religious thought and biography, making his method seem the natural mode of inquiry into culture."
Wordsworth Circle:
"GEORGE LEONARD HAS UNDERTAKEN A LARGE RETHINKING OF THE ENTIRE DEVELOPMENT OF ROMANTIC PRACTICE.... In a BRILLIANT INTERPRETATIVE TURN, Leonard sets Danto's account of Warhol inside a large story... IMAGINATIVE AND ILLUMINATING... His account of Cage is MASTERFUL.."
Library Journal:
"PROVOCATIVE AND ILLUMINATING."
Publisher's Weekly:
"HIGHLY STIMULATING, IMPASSIONED."
Choice:
"A RICH AND REWARDING study written in a clear and accessible style with excellent reference and a very useful index. HIGHLY RECOMMENDED."
Arthur Danto:
"This book weaves a tremendous tapestry... IT IS A DAZZLER.
Allan Kaprow:
"THRILLING AND PERSUASIVE... He has bestowed a potentially reassuring new identity on an American vanguard that seemed particularly cut off from its origins."