Italian American Heritage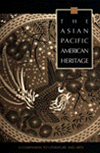 THIS RICH VOLUME FILLED WITH THOUGHTFUL AND ORIGINAL ESSAYS ADDS SIGNIFICANTLY TO THE MATERIALS ALREADY AVAILABLE IN THE FIELD.... HANDSOMELY PRINTED... EXCELLENT ILLUSTRATIVE MATERIALS.... EACH SECTION CONTAINS ESSAYS BY PROMINENT SCHOLARS AND WRITERS (FRANK LENTRICCHIA, CAMILLE PAGLIA, HELEN BAROLINI, FRED L. GARDAPHE AND MANY OTHERS... RECOMMENDED TO UPPER-DIVISION UNDERGRADUATES THROUGH FACULTY AND TO GENERAL READERS... D'Acierno divides the book into four main parts: "Identity," "Roots, Traditions, and the Italian American Life-World," "Writing as an Italian American," and "The Italian American Presence in the Arts".....essays by prominent scholars on a particular aspect... from personal experience to traditions to literary history to theater, music and cinema.... (includes) an appendix entitled "Cultural Lexicon: Italian American Key Terms" and... another appendix-- "The Italian American Experience, 1492-1998"
AMERICAN LIBRARY ASSOCIATION JOURNAL "CHOICE" reviewed by R. WEST, UNIVERSITY OF CHICAGO
Given the TREMENDOUS RANGE OF TOPICS COVERED, [this book is] HIGHLY READABLE AND INFORMATIVE.