The Ice Cathedral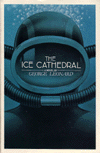 THE ICE CATHEDRAL (novel, published by Simon and Schuster)
MOTION PICTURE RIGHTS AND SCREENPLAY SOLD TO RON HOWARD (IMAGINE ENTERTAINMENT, UNIVERSAL PICTURES).
NEW YORK SUNDAY TIMES BOOK REVIEW:
"SUPERB... SHARP... BRILLIANT... SUSPENSEFUL... STARTLING... DISTINGUISHED... INNOVATIVE...."
New York Sunday Times full-page interview:
"HAILED BY CRITICS FOR ITS LYRICAL AND NARRATIVE QUALITIES, it has been selected as a Preferred Choice Book Club dual main selection and its paperback rights have been sold."
Washington Post Sunday Book World:
"Sam Peckinpah has the same sort of GENIUS as Leonard... VOLUPTUOUSLY VIOLENT... Leonard can invest what is ghastly with a queer beauty... the joy of violence...."
Newsday:
"It's an action story for sure-- THE BOOK HURLS ALONG with the pace of a thriller."
Boston Globe:
"A page turner... MARVELOUS!"
San Mateo Times:
"CANNOT BE PUT DOWN."
San Diego Union:
"A REAL THRILLER. From its disturbing opening scene, to its elaborately orchestrated climax... PULSATING SCENES OF VIOLENCE... at a spirited clip... a chilling thriller."
Kansas City Star:
"GRISLY LITERARY FEAT... an impressive exercise in controlled ferocity... This is a novel of EXCEPTIONAL POWER AND PERHAPS, COURAGE."
Cleveland Plain Dealer:
"A thriller in which we cheer the villain... terse point-blank style... CLEAN WRITING, SURE PACING, TENSE ACTION... SPECTACULAR FINALE."
Translated into Chinese.